DIRECTOR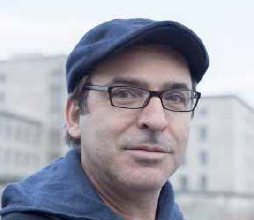 "Night Out" is Stratos Tzitzis` fifth feature film, his first in Berlin. His film "Save me" was selected 2014 as one of the 20 best Greek films ever at the 55th Thessaloniki International Film Festival, tribute "100 Years of Greek Cinema". His latest film "Ashes" had premiere at the "Montreal World Film Festival" in August 2016.
Trailer "Ashes" (2016): www.youtube.com/watch?v=Y-UhMQ9FRvg
Spielfilm "45m2" (2010): https://vimeo.com/164418856
Spielfilm "Save me" (2001): https://vimeo.com/165483625
REGISSEUR
"Night Out" ist der fünfte Spielfilm von Stratos Tzitzis, sein erster in Berlin. Im Rahmen der Hommage "100 Years of Greek Cinema" wurde sein Film "Save me" 2014 beim 55. Internationalen Filmfestival Thessaloniki zu einem der 20 besten griechischen Filme aller Zeiten gewählt. Sein letzter Film "Ashes" hatte Premiere im August 2016 beim "Montreal World Film Festival".
CAMERA
Patrick Jasim was born in 1978 in Bonn. After finishing his training as a media designer, he worked as a camera assistant on several movies. Since 2008, he has been studying Cinematography at the Deutsche Film- und Fernsehakademie in Berlin. Patrick has worked as a cinematographer on numerous shorts, music videos and documen- taries. Night Out will be his third feature film.
KAMERA
Patrick Jasim, 1978 in Bonn geboren. Nach einer Ausbildung zum Mediengestalter arbeitet er als Kameraassistent bei diversen Filmproduktionen. Seit 2008 studiert er Kamera an der Deutschen Film- und Fernsehakademie Berlin. Als Kameramann realisierte er bereits mehrere Kurzfilme, Musikvideos und Dokumentationen. Night Out wird der dritte von ihm fotografierte Langfilm.
EDITOR
Kai Wido Meyer is working as director, editor, video designer and actor. His last short movie "Household" premiered at the renowned "Max Ophüls Festival" and runs worldwide at numerous festivals. His Videoworks was presented among other locations at the Oper Dortmund, Theatre Heidelberg and Theater Bremerhaven The Berliner Start-Up "Tinkerbots" obliges him for their commercials. As an actor he worked with Steven Spielberg and Spike Lee. Meyer is house photographer at the Theatre Augsburg and active in several areas of the media world. He lives in Berlin. Kai Wido Meyer arbeitet als Regisseur, Editor, Videodesigner und Schauspieler. Sein letzter Kurzfilm "Daheim" feierte seien Premiere auf dem renommierten "Max Ophüls Festival" und läuft weltweit auf zahlreichen Festivals.Seine Videoarbeiten zeigt er unter anderem an der Oper Dortmund, dem Theater Heidelberg und Theater Bremerhaven. Das Berliner Start-Up "Tinkerbots" verpflichtet ihn für seinen ersten Werbespot. Als Schauspieler arbeitete er mit Steven Spielberg und Spike Lee. Meyer ist Hausfotograf am Theater Augsburg und in vielen Bereichen der medialen Welt unterwegs.Er lebt in Berlin.
PRODUCTION MANAGER

Born in 1985, René Tettenborn works as a social entrepreneur and freelancer, directing and producing movies. He's focussing on projects with highly artistic content. Night Out is one of those projects centring around the life, anxieties and longings of remarkable characters in a remarkable city. Combining its urban soul with people's deepest desires, the movie is an authentic portrait of reality far beyond usual productions.
René Tettenborn, geboren 1985, arbeitet als Sozialunternehmer und ist seit zehn Jahren freiberuflich im Regie- und Produktionsdepartment beschäftigt. Dabei konzentriert er sich heute nur noch auf ausgewählte Filmprojekte, die inhaltlich wie künstlerisch überzeugen können. In Night Out sieht er dieses Potential. Der Film gibt einen Einblick in das Leben von außergewöhnlichen Charakteren mit ihren inneren Ängsten und Lüsten in einer außergewöhnlichen Stadt, die mit ihrer Seele den menschlichen Tiefen entspricht. Um dem gerecht zu werden und das dem Zuschauer auch zu vermitteln, wird der Film auch unverfälscht in der Realität, fernab eines klassischen sterilen Filmsets, gedreht.
MUSIC SUPERVISOR AND COMPILER
Martin Risel arbeitet sonst als Musikjournalist für DLF Kultur und andere ARD-Sender, ist DJ und drummer, Veranstalter und Kenner von KitKat und der Berliner Club- und Musikszene. Bei seinem ersten Filmjob hat er zusammen mit Namito Musik ausgewählt , die ein aktuelles Klangbild der Stadt ergibt: Mit Tango, Blues, Balkanbeat, Jazz und frischen Clubsounds - ohne Klischees und große Stars, dafür mit Newcomern und unbekannten Acts.
MUSIC COMPILER
Namito ist im Iran geboren und wurde DJ und Produzent der ersten Generation von Berliner Technomusikern. Lange Zeit Resident DJ im Tresor, KitKat und anderen Berliner Club-Institutionen veröffentlicht er immer wieder eigene Produktionen zwischen Techno, Tribal und House. Bei seinem ersten Filmjob hat er sich vor allem um die Musik im KitKatClub gekümmert, ein paar seiner eigenen Tracks sind auch dabei.